Single EP
A wafer holder for a single wafer with backside protection.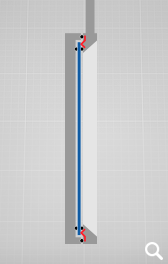 Electroplating has been applied to a variety of micromachining applications from solder bumps for flip-chip assemblies to freely moving structures made in gold or nickel. AMMT has introduced a product line of wafer holders adapted to the needs of the electroplating engineer. Different from holders for electrochemical etch-stop applications with electrical backside contacts, electroplating requires a contact at the front or plating side, which is in contact with the electrolyte solution.
To provide the plating current, AMMT's electroplating holders have a circular stainless-steel ring embedded around the edge zone of the wafer. This zone is kept dry by a set of electrolyte-compatible O-ring seals. Electrical contact to the wafer is achieved by four or more spring-loaded gold contact pins.
Electroplating holders are available 2", 3", 4" (100 mm), 5", 6" (150 mm), 8" (200 mm), 300 mm wafers as well as for customer specific samples and chips. Please contact us for further information.